Invest In Your Business And It Will Pay Dividends…
Matt Aitchison did… And it has! Literally!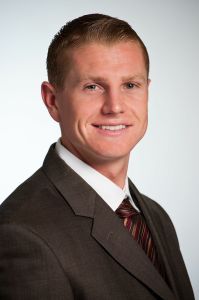 This week I interview Matt Aitchison, the other half to the Aitchison & Adams real estate team.
(Rachel, one half of the Aitchison & Adams real estate team was a past guest of The Niche Agent, you can check out her episode here:  www.TheNicheAgent.com/Episode41)
Matt shares some secrets to the teams tremendous and QUICK success. In the interview, Matt and I discuss how they structured the team and the techniques they use to build massive wealth for themselves and their team. As an investor himself, Matt knew that in order to build their real estate pipeline they would need to have an investment arm of their business so they built it.
One of the things that makes their team unique is that if they can't purchase the property directly from the seller, they send it over to Rachel where she works her magic on listing side of things. Its a straight forward system that Matt says anyone can follow if you just take the chance and follow the model.
We jump into how Matt gained his knowledge, who has mentored him over the years and how hes changed his mindset to one of abundance and to learn to build a happy and wealthy life. 
If you have done any investing yourself, or work with any investors and would like to see how the Aitchison & Adams team has built this as a staple of their business, then this is one episode you wont want to miss!
Listen/Download Audio File Here:

Invest In Your Business And It Will Pay Dividends...
[ 33:05 ]
Play Now
|
Play in Popup
|
Download
(1528)
(To save, hit download, then right click on the screen and hit save as…) 
Watch The Youtube Version Here:
About Our Guest – Matt Aitchison
Matt Aitchison is a real estate entrepreneur who passionately pursues living life to the fullest. After graduating from the University of California, Santa Barbara, broke and living at home, Matt began his professional career in real estate and co-founded the Aitchison & Adams Real Estate Team at the age of 22. Matt has assembled a successful group of professionals that is on pace to close over 175 transactions and over $35 million in sales volume in 2014. In addition to running one of the brightest and boldest real estate teams with Keller Williams, Matt has also focused on identifying sound investment strategies to build wealth and financial security. To facilitate this, Matt founded Vault Investment Properties,an investment company that has rehabbed, developed, and wholesaled over 70 properties throughout Northern California in the last 18 months. He has quickly built the expertise and track record needed to successfully pursue property investment and redevelopment. Matt considers himself a serial dreamer, avid adventurist, a dog lover and family man. His concoction for LIVING LIFE LARGE revolves around the key ingredients of mentorship, faith, and a relentless thirst for personal growth.
Connect With Matt
 You can find out what Matt and his team are up to at www.aitchison-adams.com or on Facebook at www.Facebook.com/MattyAitchison or shoot him an email at Matt@Aitchison-Adams.com
To you and your niche,  
Ryan Smith – The Niche Agent 
(P.S. In case you haven't got your copy yet, make sure you get your copy of the "101 Real Estate Niche Markets" eBook we created at  www.TheNicheAgent.com/eBook ) 
(P.S.S. If you like this episode and would like to learn more about the Niche Agent or just stay on top of what is happening on the program, be sure to sign up for the Niche Agent Insiders club at www.TheNicheAgent.com/Insiders.)