Is Your Real Estate Career Sky High In 2015?
With Pre Construction Condos, Amit and Roy have ensured theirs is!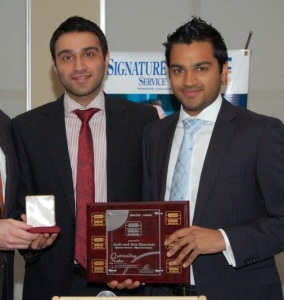 This week I interview two brothers Amit and Roy Bhandari about their passion and their niche… Pre Construction Condos!
In this episode Amit and Roy share the pathway that led their real estate careers into the pre construction condo market in Toronto. From their beginnings as "average real estate agents" to platinum status agents in the condo game, Amit and Roy have built an incredible niche and an amazing business for themselves.
We discuss the benefits of clients working with agents like them, why they decided to focus on condos (And it's simpler than you think…), how agents can get into the condo game if they want to make it part of their business, the hardships and obstacles they have overcome while building this business, what they have learned over the years focusing on their niche and how agents can grow their businesses by getting the same kind of focus.
You need to check out this episode if you want to learn what really focusing on your business can do for you and how you can start executing that focus today! 
Listen/Download Audio File Here:

The Niche Agent With Amit and Roy (Episode 54)
[ 35:31 ]
Play Now
|
Play in Popup
|
Download
(1990)
(To save, hit download, then right click on the screen and hit save as…) 
Watch The Youtube Version Here:
Connect With Amit and Roy
 You can connect with Amit and Roy on their website at www.TalkCondo.com or shoot them an email at Email at Amit@Talkcondo.com and Roy@TalkCondo.com or connect with them on facebook at  www.Facebook.com/amitbuk   www.Facebook.com/roybhandari
About Our Guest – 

Amit and Roy

Amit and Roy were both born and raised in England – they moved to Canada in 2001. In the summer of 2007 their Real Estate business started with a lot of promise and has consistently grown ever since. In February 2009, they were presented with the Sales Achievement Award from Royal LePage. Since then they have moved to Sage Real Estate and have continued growing.

They have been trained and coached by Richard Robbins International – a leading business coaching program designed specifically for Real Estate Professionals. They both have degrees in Business: Amit with a B.Comm in Information Technology Management, and Roy with a B.Comm (Hons) in Marketing Management. Both skill-sets go hand-in-hand and the dynamic business they have created will continually strive to be the absolute best through innovations, entrepreneurial-ship, and most importantly by putting client needs first.

 

To you and your niche,  

Ryan Smith – The Niche Agent 

(P.S. In case you haven't got your copy yet, make sure you get your copy of the "101 Real Estate Niche Markets" eBook we created at  www.TheNicheAgent.com/eBook ) 

(P.S.S. If you like this episode and would like to learn more about the Niche Agent or just stay on top of what is happening on the program, be sure to sign up for the Niche Agent Insiders club at www.TheNicheAgent.com/Insiders.)