What would a network of 10,000+ agents do for your business?
Linda De Fusco can tell you, and it looks like a lot of referrals!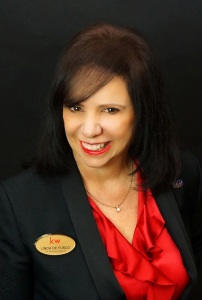 This week I interviewed Linda De Fusco. Linda runs and incredibly successful Facebook group for agents called "Referral Mindset/Refer with Purpose" where she has over 10,000 agents in the group who are sharing referrals every day around the globe.
It's no question that Linda's niche is referrals and it's easy to see how passionate she is about them!
We talk about how she built the group to such an amazing number of agents and how she maintains it. She shares how it's influenced her business and allowed her to connect with agents all over the globe. And build a more predictable and sustainable business.
She shares strategies on how you can get more referrals for your own business and how to get yourself into the correct referral mindset so you make the most out of your referral business.
If you haven't joined Linda's group I suggest you check it out. Get yourself into referral mode and start sharing your referrals today! (Your business will thank you!)
Listen/Download Audio File Here:

The Niche Agent - With Linda De Fusco (Episode 37)
[ 27:29 ]
Play Now
|
Play in Popup
|
Download
(585)
(To save, hit download, then right click on the screen and hit save as…) 
Watch The Youtube Version Here:
About Our Guest – Linda De Fusco
With over 30 years in the business and over 3,500 deals under her belt, there is absolutely no question that Linda De Fusco know's her business!  And did we mention that 75% of her business comes from listings?!
Linda is a consistent performer and a master of referrals. She has built the Referral Mindset/Refer with Purpose  facebook group to over 10,000 agents and is growing every day. This group is filled with a daily buzz of activity and is one of the largest facebook real estate groups out there.
Make sure you check out the "Referral Mindset/Refer with Purpose" Facebook group if you haven't done so already!
To you and your niche,  
Ryan Smith – The Niche Agent 
(P.S. In case you haven't got your copy yet, make sure you get your copy of the "101 Real Estate Niche Markets" eBook we created at  www.TheNicheAgent.com/eBook ) 
(P.S.S. If you like this episode and would like to learn more about the Niche Agent or just stay on top of what is happening on the program, be sure to sign up for the Niche Agent Insiders club at www.TheNicheAgent.com/Insiders.)